SHOP ONLINE OR CALL TO ORDER / ՊԱՏՎԻՐԵԼՈՒ ՀԱՄԱՐ ԶԱՆԳԱՀԱՐԵՔ՝
(091) 054 279  (+374 91 054 279 for international calls)
Մենք խոսում ենք հայերեն
 We speak English
ما فارسی صحبت می کنیم
First Cold Pressed Almond Oil/Առաջին կարգի սառը զտած նշի ձեթ
50 mL
first cold pressed when orders are placed
50 մլ
առաջին կարգի սառը զտում՝ անմիջապես ջեր պատվերը տեղադրելուց հետո
Description
Almond Oil Nutrition Facts
Research proves that the healthy fats (unsaturated) in almonds, along with fiber and various minerals, make them cholesterol-lowering and reduce the risk of cardiovascular disease and diabetes. Almonds are also used in body weight reduction and glucose management, and are known to have antiinflammatory and antioxidative properties. (2)
One hundred grams of almond oil contains 60 international units of vitamin E, 200 percent of the daily recommended amount. Other than a small amount of vitamin K, other vitamins and minerals are found in only negligible amounts in almond oil. Generally, its benefits are found in incredibly dense amounts of unsaturated fat.
---
Almond Oil Benefits
1. Regulates Cholesterol
One of the most widely known benefits of almond oil is its ability to regulate cholesterol. Regular consumption of almond oil raises HDL cholesterol (known as "good" cholesterol), lowers LDL ("bad" cholesterol) and generally lowers overall cholesterol levels naturally. (3)
Between the high unsaturated fat content (which is already really good for your cholesterol levels) and vitamin E, almond oil allows oxygen and nutrients to flow freely through your blood, meaning that your heart will thank you for gifting it with almond oil.
2. Reduces Risk of Heart Disease
Not only can you expect better cholesterol levels with almond oil as a regular part of your diet, but you can also look forward to a decreased risk of cardiovascular disease, according to a 2014 study published in the Journal of Research in Medical Sciences. (4) Heart disease, like high cholesterol and many other conditions, is often caused by chronic inflammation. Real foods with antioxidative and anti-inflammatory properties, therefore, generally reduce your risk for many common health conditions.
If you are already at risk for coronary heart disease, I highly recommend adding regular almond oil consumption to your diet. This, in conjunction with eating good sulfur-containing superfoods (such as eggs or kale) and getting good omega-3 fatty acids, should help you to reduce inflammation in your body and keep your heart healthy.
3. Protects Against Diabetes
Diabetes occurs when your blood sugar becomes elevated due to your pancreas or cells being unable to produce insulin properly. Almonds and almond oil have been proven to both help regulate blood sugar levels and even prevent diabetes!
In a Purdue University study, researchers found consuming almonds at breakfast (in the form of whole almonds, almond butter, almond flour and almond oil) decreased blood sugar levels and made participants feel more full, avoiding the second-meal dip that many diabetic patients or patients in the prediabetes stage experience. In fact, in that particular study, almond oil performed as well as whole almonds at encouraging insulin production after the first meal (and even better than almond flour and almond butter!). (5)
Another trial conducted by the Clinical Nutrition and Risk Factor Modification Center at St. Michael's Hospital in Toronto suggested that almonds, combined with foods high in carbohydrates (meaning foods with a high glycemic index), may actually decrease the glycemic level of an overall meal, again helping those with insulin resistance or at risk for diabetes to regulate their blood sugar levels. (6)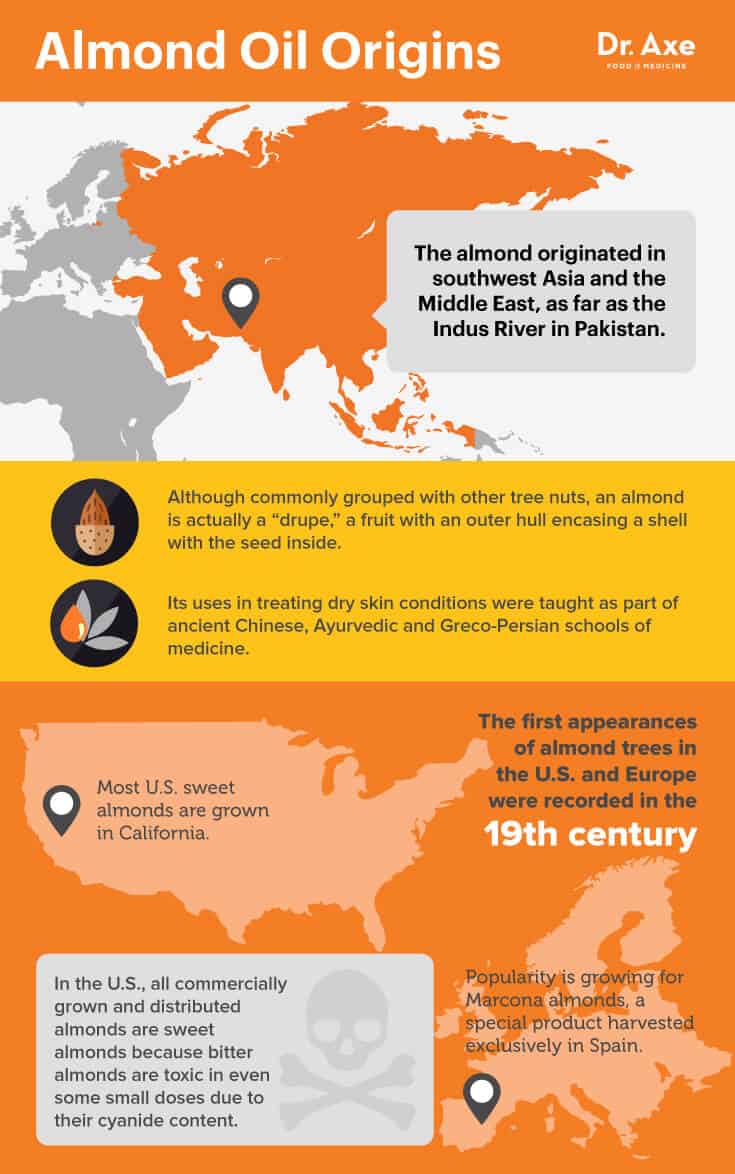 Reviews
There are yet no reviews for this product.